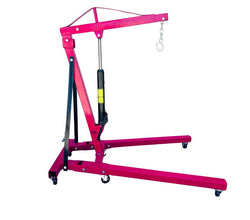 TOOLSGALORE 2 Ton Hydraulic Engine Crane Folding Hoist
Versatile lifting device used for safely handling engines during maintenance or replacement. With its strong steel frame, adjustable boom, hydraulic lifting mechanism, and safety features, it enables mechanics and technicians to perform engine-related tasks efficiently and with minimized risk.
Load capacity=2000kg
Shipping

** Please contact our team for freight quote to NT, TAS and WA **

***Delivery exclusions apply for bulk and large items. For certain postcodes and remote areas, the item will be delivered to the nearest Collection Depot for customer pickup and additional delivery charges might apply.
*** A 10% restocking fee applies if the product is not returned in the original packaging condition.