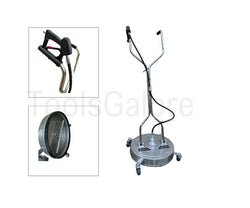 20 inch Pressure Washer Stainless Steel Surface Cleaner
This stainless steel pressure flat surface cleaner is resistant to corrosion and rust, which is capable of cleaning any flat surface area with both cold and hot water. It is perfect for cleaning garage floors, driveways, patios, decks, sidewalks, and more.
Superb Surface Cleaner

Rotary Nozzle & Bristle

Flexible & Smooth Caster

Good Compatibility
Stout Stainless Steel
This concrete surface cleaner is constructed with solid 304 stainless steel and has a dual stainless steel bearing and tungsten seat. In addition, a rotary arm bracket can enhance its stability, more reliable than other cleaners in use.
Rotary Spray Nozzles
The rotary rod with two orifice nozzles has a 25°spray angle for a broad cleaning surface. Sturdy bristled brushes control over-spray and keep you dry.
Smooth Rubber Caster
The three rubber casters are capable of 360 degrees rotating to move smoothly. It is incredibly suitable for cleaning horizontal surfaces.
High-degree Cleaning
There is a noticeable contrast effect before and after using the machine. It will give you a fabulous experience by creating a high-degree clean environment.
Easy to Operate
It is labor-saving and hassle- to use the flat surface cleaner with two included 1/4" quick connectors. It is well suited for cold and hot water applications.
Various Application
This surface cleaner delivers a streak-level cleaning for stubborn stains, which widely fits the decks, patios, sidewalks, driveways, pool decks, parking lots, and many other horizontal flat surfaces.
Specifications

Material: 304 Stainless Steel

Max. Working Pressure: 4000 PSI

Max. Flow: 4 GPM

Min. Working Pressure: 1250 PSI

Min. Flow: 2 GPM

Maximum Temperature: 210 °F/99 °C

Dimensions : 20"

Product Size: 6 x 16"/15 x 40 cm

Product Weight: 13.2 lbs/6 kg
Shipping

** Please contact our team for freight quote to NT, TAS and WA **

*** A 10% restocking fee applies if the product is not returned in the original packaging condition.
**Delivery exclusions apply for bulk and large items. For certain postcodes and remote areas, the item will be delivered to the nearest Collection Depot for customer pickup and additional delivery charges might apply.