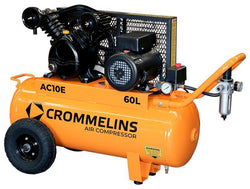 Crommelins Air Compressor Electric 60L AC10E
AUD $1,371.50
AUD $1,266.99
PRODUCT DESCRIPTION
Electric powered, outputs 270L/min (9.5CFM), two-cylinder cast iron pump.
The Crommelins air compressor electric 60L is perfect for industrial, commercial and agricultural use. The model outputs 270L/min (9.5CFM) air displacement and a key feature is the cast iron two-cylinder pump which has stainless steel valves for cool running and greater longevity.
It also features metal guards, metal air filter, and the tyres are puncture proof. Furthermore, the compressor comes with a filter regulator and drain valve.
Crommelins compressors are also available in petrol and diesel.
Ideal for workshops, air power tools and spray painting all models are backed with Crommelins one-year manufacturer's warranty.
SPECIFICATIONS
| Model Number | AC10E |
| --- | --- |
| Pump Displacement (L/min [CFM]) | 270L/min [9.5CFM] |
| Free Air Delivery | 200L/min [7.1cfm] |
| Tank Capacity | 60L |
| Maximum Pressure (KPA [psi]) | 900KPA [130psi] |
| Pump Model | PG20 |
| Pump Cylinders | Twin |
| Power Source | Electric (10 Amp) |
| Motor/Engine Type | 1.65KW Teco Motor |
| Fuel Tank | – |
| Decibels at 7M | 72DB |
| Weight (dry) | 85KG |
| Dimensions (LxWxHJ) | 1110 x 450 x 770mm |
| Manufacturer's Warranty | 1 Years |


STANDARD FEATURES

Genuine Teco Electric Motor
Large volume air tank
Two-cylinder cast iron pump
Metal belt guard
Metal air filter
Filter regulator
Drain valve
10" Never flat tyres
One-year Crommelins warranty
OPTIONAL EXTRAS