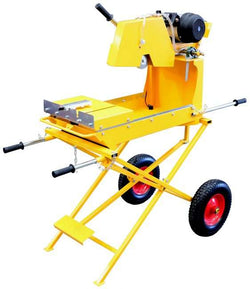 Crommelins Electric Brick Saw 14"
AUD $2,312.31
AUD $2,134.99
PRODUCT DESCRIPTION
Cut with precision with our Brick Saw.
This robust brick saw is designed with the operator in mind including features to ensure ease of use and safe transport.
It will make easy work of cutting your bricks and pavers. Therefore, its perfect for building and construction, hire and rental, contractors and DIY.
This single phase 1700W electric powered brick saw has a cutting blade that is water cooled by attaching a hose to the water fitting. It has a height adjustable spring-loaded cutting head with locking option, a 14-inch blade capacity (350MM) and heavy-duty mitre guide. Also, the foot pedal allows greater control for difficult jobs. Furthermore, it's highly portable with two large never flat wheels, extendable handles for transport, loading and unloading, as well as a detachable stand.
Assembled and tested in Australia, we have a range of diamond blades available for cutting different materials.
SPECIFICATIONS
| Model Number | CBS350CE |
| --- | --- |
| Blade Size (mm) | 350mm |
| Cutting Depth (mm) | 125mm |
| Cutting Table Size (mm) | 860x440mm |
| Sliding Tray (mm) | 280x460mm |
| Motor Wattage | 1700w |
| Motor Brand | CMG |
| Shaft Speed | 2880rpm |
| Weight (kg) | 109kg |
| Dimensions (LxWxH) mm | 1200 x 780 x 1620mm |
| Manufacturers Warranty | 1 Year |
| Barcode | 9336493003107 |
STANDARD FEATURES
Extendable handles for lifting and transport
Height adjustable spring loaded cutting head
Sliding tray with rail system
Heavy duty mitre guide
Motor capacitor box crash plate
Large never-flat wheels, puncture proof
Foot pedal for greater control
Detachable stand for portability
14 inch blade capacity (350mm)
Assembled and tested in Australia
1 Year manufacturer's warranty
OPTIONAL EXTRAS