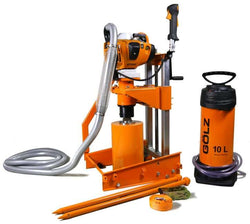 Golz Core Drill 2-Stroke KB350
AUD $8,459.10
AUD $7,808.99
PRODUCT DESCRIPTION
With advanced design, this core drill won't let you down.
Powered by a STIHL 2-stroke engine, this core drill is the original and most modern solution in pipe and sewage drilling for house connections and surface water.
Built with top class components, this product is manufactured for easy and convenient operation. It is ideal for building and construction, hire and rental, civil works and for contractors.
The Golz Core Drill 2-Stroke is compact and light weight making it perfect for constricting workspaces. It has a maximum core drill size of 354mm and a travel length of 450mm. Furthermore, it provides independent operation where no public power supply is available.
The proven STIHL engine technology combined with the Golz equipment concept ensures the highest reliability, efficiency and safety in operation.
SPECIFICATIONS
 
| Model Number | KB350 |
| --- | --- |
| Core Drill Size (mm) (max) |  354mm |
| Travel Length (mm) | 450mm |
| Drill Speed (rpm) | 300rpm |
| Operation | Wet |
| Engine Model | 2.8kw FS560 |
| Engine Brand | STIHL |
| Fuel Type | 2-Stroke |
| Fuel Tank | 1L |
| Weight (kg) | 45kg |
| Dimensions (LxWxH) mm | 550 x 410 x 800mm |
| Manufacturers Warranty | 1 Year |
STANDARD FEATURES
Genuine STIHL 2-Stroke engine
45° and 90° drilling (engine allows any angle drilling)
Gearbox with water swivel
Drill stand with pipe base (self centering)
4m Flexible exhaust hose extension
Ground frame with 2 ground fixing spikes
Fastening straps with ratchets (fixing onto pipes)
10L pressurised water tank
Light weight design for the industry
OPTIONAL EXTRAS