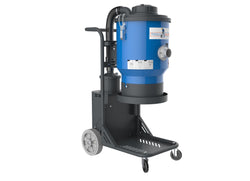 Industrial Single Phase HEPA Dust Extractor Collector - TS1000
AUD $2,399.99
AUD $1,899.99
Industrial Single Phase HEPA Dust Extractor (TS1000) is equipped with a conical pre filter and one H13 HEPA. The main filter with 1.7 m filter surface, each of the HEPA filter is independently tested and certified . TS1000 can separate the fine dust with efficiency, ensuring your work space is a clean and safe environment. TS1000 is recommended for small grinders and hand held power tools.

Features:
OSHA compliant H13 HEPA filter tested and certified with ENI 822-1 and IEST RP CC001.6
"No marking type" rear wheels and lockable front caster.
Efficient jet pulse filter cleaning.
Continuous bagging system ensures quick and dust-free bag changes
Smart and portable design, transporting is like a breeze.

Specifications:
H Class
Power (kw): 1.2
Voltage: 230V 50/60Hz
Amps: 4.8
Airflow (m3/h): 200
Vacuum (mBar): 240
Pre-filter: 1.7m2
HEPA filter (H1 3): 1.2m2>99.99%@0.3um
Filter cleaning: Jet pulse filter cleaning
Dimension (mm): 420 x 680 x 11
Weight (kg): 30
Package Weight (kg): 41
Collection: Continuous drop-down bag
Warranty : 1 year
Shipping

** Please contact our team for freight quote to NT, TAS and WA **
***Delivery exclusions apply for bulk and large items. For certain postcodes and remote areas, the item will be delivered to the nearest Collection Depot for customer pickup and additional delivery charges might apply.
*** A 10% restocking fee applies if the product is not returned in the original packaging condition.