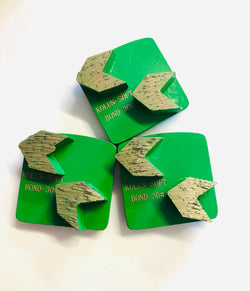 Toolsgalore Redi-Lock Concrete Grinding Shoe 30# Arrow Head Fit Husquarna - 3 pack
Product Description:

Redi-Lock Concrete Grinding Shoes, Arrow Head Hard Bond 30# (3 pack). Condition is Brand New.

RediLock Concrete Grinding Shoes 30#:

Fits Husqvarna and most redi-lock machines

Husqvarna Diamond Grinding Segments - RediLock

Long Lasting Diamond Segments

For grinding hard concrete, epoxy coating, surface paints, Vinyl and Carpet Glues removal

Ideal for the grind through as part of concrete grinding, honing, polishing procedures.
Shipping

** Please contact our team for freight quote to NT, TAS and WA **
 *** A 10% restocking fee applies if the product is not returned in the original packaging condition.