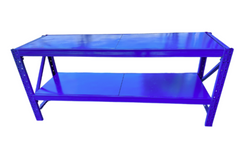 TOOLSGALORE Heavy Duty Work Bench
Robust and versatile piece of equipment designed to provide a sturdy and organized workspace for various tasks. Made primarily from metal or steel, these workbenches are built to withstand heavy-duty use and offer ample storage options.

Designed for a warehouse, garage, or metal storage environment offers a rugged and functional workspace combined with ample storage options. Its sturdy metal or steel construction, along with customizable storage components, makes it an ideal choice for professionals in need of a durable and organized workstation.
400kg
Load capacity= 400kg
200x60x80cm

200kg
Load capacity= 200kg
100x60x80cm
Shipping

** Please contact our team for freight quote to NT, TAS and WA **

***Delivery exclusions apply for bulk and large items. For certain postcodes and remote areas, the item will be delivered to the nearest Collection Depot for customer pickup and additional delivery charges might apply.
 *** A 10% restocking fee applies if the product is not returned in the original packaging condition.